Learn how Web 2.0 technologies, sales, marketing and advertising strategies, email campaigns, and online concepts can help your company on the Internet. Free Sign Up

Technology, Sales, Marketing, and Advertising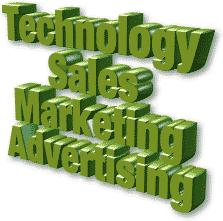 In This Weeks' Technology, Sales, Marketing, and Advertising Articles:
Is Big Brother Listening In on Your Keyboard?
Geo Targeted Advertising or Spying?
Transferring Your Domain Name
Sales and Marketing Moving Picture Shows - Web Videos
Keyboard Recording
It is amazing what researchers are creating in the way of new technology. In the article: Is Big Brother Listening In on Your Keyboard? A new technology for actually recording the sounds of someone typing on a keyboard. Is someone recording you? Read more:
http://computertechster.blogspot.com/2005/09/ big-brother-listening-to-your-keyboard.html
Geo Targeting
In another topic that was forwarded to me by a reader concerns Geo Targeting. Is this a new technology that will help target ads to users or will it be used for Spy activities by the National Security Agency?
http://earthmoonstars.blogspot.com/2005/09/ geo-targeting.html
Your Network Solutions
Many Domain Registrars are charging companies an exorbitant annual renewal fee. Find out how you can substantially reduce your annual costs by transferring your domain name to a new Registrar that offers reasonable fees for registration. Read more:
http://b2b-b2c-domain-name.blogspot.com/2005/09/ your-network-solutions.html
Sales and Marketing Moving Picture Shows - Web Videos
Getting found Online on the major search engines is only half the battle. Utilizing sound marketing and advertising concepts once a lead source visits your business or consumer website is the other. See how the intergration of on demand video feeds can help your online sales. Take a video factory tour of Google. Learn more about what goes on inside Google and what new technology services are available. See story at:
http://pwebs.net/2005/09/ sales-and-marketing-moving-picture.html
Professional Web Services,
The SEO Internet Marketing Professional
Labels: Advertising, Marketing, Privacy, Sales, Video, Web 2.0
Feel free to forward our new interactive online newsletter subscription on to an Internet friend. Simply click the News letter Stories link and email them the page.
Internet Marketing Services and Online Advertising Strategies Email Contact Information
posted by James A. Warholic at 2:02 PM