Learn how Web 2.0 technologies, sales, marketing and advertising strategies, email campaigns, and online concepts can help your company on the Internet. Free Sign Up

Blogs, Marketing, And Your Business
Internet Marketing, Online Advertising, And Your B2B And B2C Business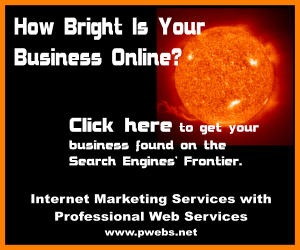 A recent article came out about:
eBay Is Going To Provide Additional Marketing Outlets For Their Users
More and more people are realizing the importance of marketing and advertising their products on the Internet. eBay has built a business around the hundreds of thousands of individuals and businesses all around the world that have something to sell.
Another place that is growing at an unbelievable clip is the website www.craigslist.com. Read how a Blog or even your business website can provide an additional marketing outlet for your company, product, service, or individual for sale items using Craigs List and a great landing page.
Read more of this story at Pro Web Blog Blogging And B2B and B2C Internet Marketing Strategies -
eBay Blogs And Marketing
Imagine the possibilities for your B2B or B2C business today. With
Internet marketing services,
online advertising strategies,
and
web branding solutions
from Professional Web Services; your business can generate more quality customer leads,
increase sales,
and improve the bottom-line.
Contact
Professional Web Services
today.
Labels: Blogs, Internet Marketing, Marketing, Online Advertising, Website Marketing
Feel free to forward our new interactive online newsletter subscription on to an Internet friend. Simply click the News letter Stories link and email them the page.
Internet Marketing Services and Online Advertising Strategies Email Contact Information
posted by James A. Warholic at 10:56 PM